Process both notation
and TAB scores
Scan and recognize solo guitar scores. Scan and recognize TAB scores. Edit in either environment or convert your score from one environment to the other.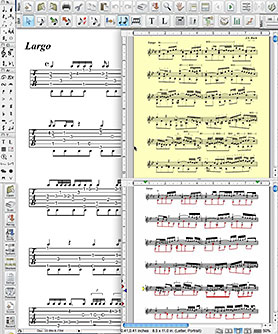 Convert notation to TAB. Convert TAB to notation.
Guitar tablature recognition and conversion is included! Our optimized fingering algorithm favors lower hand positions and "best practices" finger numbering. The TAB editor is powerful and easy to use. Fingering and note pitches are corrected with mouse drags. Converted staff lines retain and display note values & articulations taking the guesswork out of sight reading tablature notation.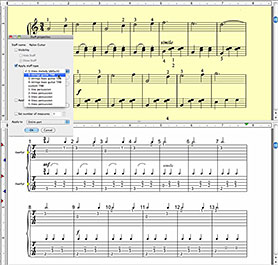 Playback Properties Tool
Change playback properties of tempo, dynamic and articulation markings, legatos, trills and other symbols. Apply changes to a single object or to all similar objects throughout the score. Store your own customized changes as new playback defaults for future SmartScore projects.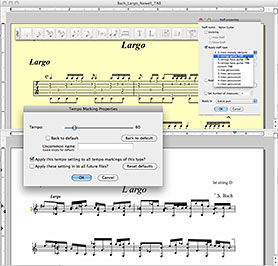 Text and Tools
Fine-tune the position of nearly every symbol on the page. Add special features to your score including fingering, barres, expressions and annotations.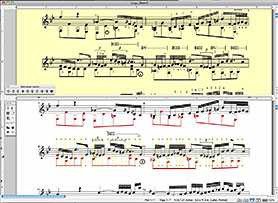 Output
Transpose and print directly from SmartScore. Open your score in Finale with just one button. Save as MIDI or MusicXML. Burn voices, parts or entire score to CD audio using Garritan sounds.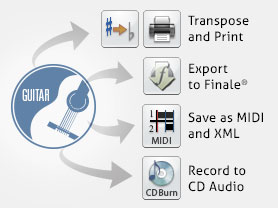 Garritan Sound Library
SmartScore X2 includes a large subset of Garritan jazz, pop and orchestral instrument sounds. Garritan sounds are state-of-art digitally sampled sound libraries that realistically reproduce musical instruments in performance. Garritan sounds are carefully recorded samples of actual musical instruments. They are not electronically synthesized. View the list of sounds included in every edition of SmartScore X2.

SYSTEM REQUIREMENTS
WINDOWS: Win 10 compatible - Pentium I or better / 4 GB RAM recommended

MAC: Sierra compatible - OS 10.5 or later / 4 GB RAM recommended

$79
Buy Now
Download Free Demo