Capture multiple pages of a musical score and play it back through your device. Just click and play!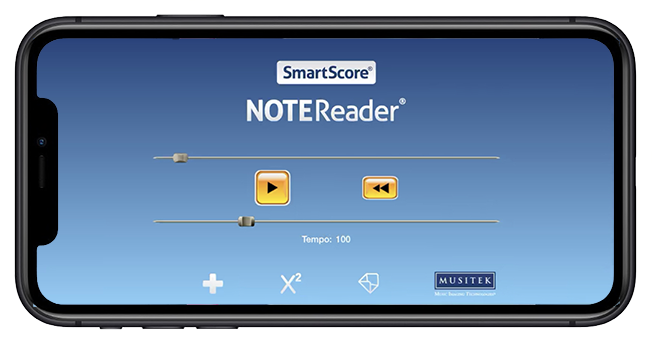 My mobile phone reads music? Yup. There's an app for that.
NoteReader is a simple little tool that lets you capture sheet music with your mobile camera and have it play back in seconds. We don't pretend that it's a professional grade tool like SmartScore Pro 64. But it's fun AND it's free.
Get Serious. Enhance and share the experience.
Step up to NoteReader Premier (in-app upgrade – Just $9.99) and send your recognized music files to any e-mail address or to Dropbox or Google Drive. NoteReader Premier lets you retrieve captured music as MIDI (.mid) and MusicXML (.xml) files. Open and edit recognized files in Finale®, Sibelius® or any other music notation program that supports MusicXML format. Open your MIDI files in Garage Band®, Acid®, Cubase® and start laying down your own tracks.
Download and install our SmartScore Player. It's absolutely free. The free Player displays music from NoteReader in standard notation and plays it back through your computer. Create Karaoke jams with moving ball & lyrics. Select a preset drum track from a library of beats; or add your own. Send SmartScore files to your friends and colleagues. They can use the Player too!
Upgrade your NoteReader to SmartScore 64 Pro / Songbook Online...
Click here for special upgrade pricing for owners of NoteReader Premier (proof of ownership required).